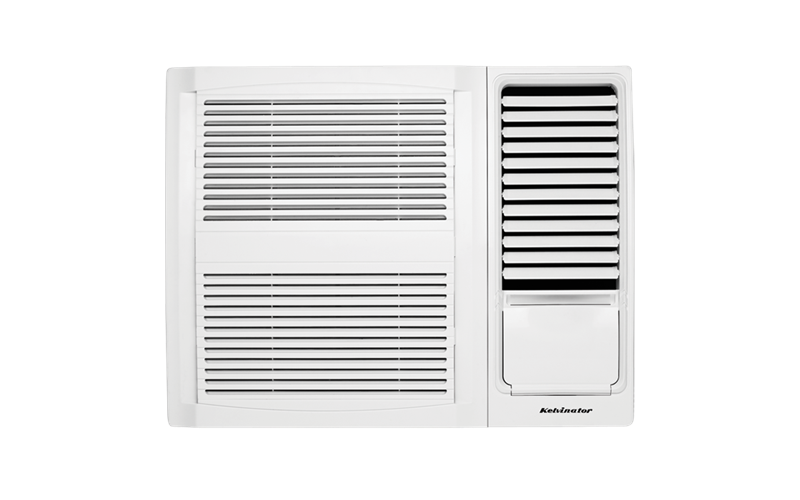 KWH15CME
Window Wall Cooling Only Air Conditioner 1.6kW
Window Wall Cooling Only Air Conditioner 1.6kW
is rated out of
5
by
42
.
The Kelvinator Window Wall Cooling Only Air Conditioner is perfect for cooling smaller family homes and space-restricted areas. It provides fresh air, additional ventilation to your room and can also assist in humidity control. Learn more here.
Key Benefits
Simple, economic and reliable
Because there are no separate indoor and outdoor units, it's easier to install a window/wall cooling only model. And because it's a Kelvinator, you know it is reliable and built to last.
Key Benefits
Compact
The super compact design means that window/wall cooling only air conditioners are discreet and unobtrusive in your home. They are also perfect for cooling smaller family homes and space-restricted areas.
Key Benefits
Fresh air delivery
The fresh air return provides additional ventilation to your room and can also assist in humidity control. The easy-to-service dust filter removes dust and other larger airborne particles for cleaner air.
Key Benefits
Take whatever the weather can dish out
Kelvinator air conditioners are built for the harsh Australian climate. Corrosion resistance on both the indoor and outdoor units ensures your air conditioner will last, whether you live on the coast or in the country.
Key Features
Air swing auto/manual
Auto restart
Manual operation
5 year comprehensive residential warranty
Cooling only operation
Rated

5

out of

5
by
Obi1
from
Fast cooling
Very easy to install, have not had to set it to higher than 5 on low cool in my office even though the temperature outside has been 34 degrees. Ran it for 6 hours on one day and the power usage is small regardless that it is rated as poor energy efficiency. Very impressed with performance particularly for the cheap purchase price.
Date published: 2017-10-29
Rated

5

out of

5
by
Bakana
from
Great little unit
This is the 3rd of these units we have purchased in 4 years. The 1st was purchased for a bedroom, the 2nd an office, the 3rd another bedroom. What great little units they are. Perfect for every room we have it in. The only time we turned the units up to the highest setting was about 5pm on the days of the hottest weather we have had in Teralba (40-43). Other hot days they are usually on low cool, between 5 to 7. These little units haved coped wonderfully and I can recommend them as an outstanding choice.
Date published: 2015-12-17
Rated

5

out of

5
by
Fred
from
Excellent Value
I purchased two of these units to help my son's get a good nights sleep over the summer due to the extreme heat that we have been experiencing and both work as expected and do the job they were purchased.
Date published: 2018-01-14
Rated

4

out of

5
by
Mike35
from
Smallest on the market. - performs very well.
I insulated and lined a 15 sq.m. shed for a hobby workshop. Previous experience showed me that 1kW of heating was good for winter, and I figured that 1.6 kW of cooling would be OK for summer. In the past, when they were all much bigger, a window aircon needed a 15 Amp socket to be legal, but my whole shed was plugged into a 15 Amp socket, leaving not much in reserve. Neither Kelvinator nor any of the retailers would quote an actual Amp value for the load - they only quoted 1.6 kW of cooling. So it was a pleasant surprise when I opened the box and found a quoted 590W of load power (= 2.45 Amps). And all the retailers quoted the same price (who said retail price maintenance was illegal?) but Appliances Online's was 19% cheaper, and free delivery. It's now in and running, and it works fine - 25℃ on a 40℃ day
Date published: 2017-01-01
Rated

4

out of

5
by
freddddd
from
Does exactly what it should
Had to buy this as the smallest physical unit I could find to fit the space. Is definitely underpowered compared to larger units so dont expect a large room performance. I love that it is simple twist knobs not unreliable digital rubbish. Very quiet. Unfortunately delivery was rubbish. Showed as delivered - but hadnt left warehouse. Was fixed quickly once I identified the problem and chased - but lost a week in the heat which was annoying.
Date published: 2017-02-16
Rated

5

out of

5
by
Great White
from
Very good air conditioner.
I bought this and am using it in a room approx 4m x 4m and it works very well in temps up to 40*C. That is as hot as it has been here so far since I bought the air con. I am very happy with it. Works well and at night I turn it down to the lowest setting and its pretty quiet. I had an engineering company make up a stand for it and use some clear plastic to cover the hole in the window. All good.
Date published: 2017-01-14
Rated

5

out of

5
by
Selcol
from
Great little Air Con.
This is the second one of these models I now own. They are excellent value for money. One of these is installed in a larger room than what's recommended. I'm surprised after about 20mins. running, what a good difference it makes to the temp. even on a very hot day. Considering they are not a split system they are very quiet, just about what a normal pedestal fan would make!
Date published: 2018-02-28
Rated

5

out of

5
by
akacrow
from
KWH15CME
I installed this unit myself. It is long and needs an outside support. There is nothing included to fill the remaining window space. The unit works extremely well and keeps the bedroom cool even on the hottest days. It is relatively quiet for an AC unit.
Date published: 2017-01-13
PRODUCT PROFILE
Domestic warranty details (yrs)

5
SPECIFICATIONS
Nominal horsepower

0.5
Capacity cool watts

1600
Current rating amps

10 amps
Indoor sound pressure dBA high setting

48
Indoor sound pressure dBA low setting

42
Outdoor sound pressure dBA

56
Indoor air circulation max (ltr/s)

97
Ambient temperature range minimum

18
Ambient temperature range maximum

43
Moisture removal ltr/hour

0.3
New Energy star rating cooling

2
Refrigerant weight (g)

350
FEATURES
Filtration

anti-bacteria mesh
Fan speeds

low,medium,high
DIMENSIONS
Total height (mm)

350
Total width (mm)

450
Total depth (mm)

580